Custom Printed Parking Permits
Comes in popular hang tag and window decal styles
Want To Add Your Review
After you receive your order, you may receive a confirmation email with a link to our Customer Satisfaction Survey.
We ask you to rate us for:
- Price / Value
- Quality
- Service
We ask you to use this scale: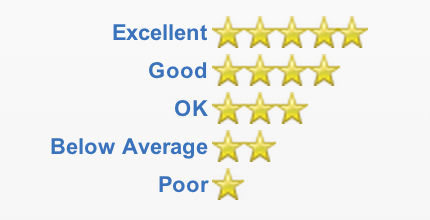 Your rating and your comments are automatically added to our on-site customer review pages. We only use your initials when posting reviews. Ratings and comments are posted as received.

We reserve the right to censor certain language, regardless of the intention - good or bad.
×
Increase security and identify unauthorized vehicles in your parking lot with our hang tag or window sticker parking permits. Make sure parking spaces and lots are protected for your employees, students or faculty, tenants, or others.

✔ Free LOGO
✔ Free Barcode & Serial Numbering
✔ Premium quality for indoor or outdoor use
✔ Design and order online!
Parking Permit Styles:
Hang Tag
Available in the most popular hang tag size, 2.75 inches by 4.75 inches. The parking permit allows room to add your logo and a barcode. Logos and barcodes are printed free of charge. Holographic foil may be added as well, for maximum protection against fraud. Hang tag permits are easily transferable, very durable, and stand up well to the extreme temperatures that may occur inside vehicles.
• Material: 20 mil Deluxe Plastic or 35 mil White Polyethylene

Window Sticker
Available in the most popular parking sticker size, 3 inches by 3 inches. Add a barcode and/or your logo for no extra charge. For maximum protection against bootleg and fraudulent copies, holographic foil can be added for a small additional cost. You can use our standard designs or upload a complete custom design for the same competitive price. Special adhesive leaves no residue when removed.
• Material: White static cling or white vinyl with permanent adhesive
Specifications:
Add your logo to any parking permits for free!
• Upload your logo or artwork into any design to see an instant proof.
• Works with all of our standard hang tag and parking sticker sizes.
• Logo/artwork should be one color.
• Combine logo and text on up to 3 lines (depending on the parking permit style and size that you choose).
• You can also simply upload an entire design that will priced the same as our standard parking permit designs.
Add barcodes for free!
• Barcodes add additional security and control to your parking permits.
• Barcodes can be added to all hang tag and parking sticker sizes at no extra charge.
• Available with or without human readable numbers.
• You determine the starting number for the sequence – barcodes and numbers are not pre-printed.
• Add a prefix and / or a suffix as well, at no additional cost.
• Numbers and barcodes on parking permits are printed in black ink for best readability.
Parking Permit - Color Options

These are our standard spot colors. Choose any of these colors to match your artwork. Foil colors are also available as shown.
Why Maverick?
Why Order from Us?

We are the leader in parking permit printing because we offer you these options for your parking permits:

- Logos and barcodes added free
- Hang tag and parking sticker styles
- PVC static cling and durable vinyl materials
- Use one of our designs, or provide your own 
- Premium print quality for rugged outdoor use
- Order just the quantity you need (125 minimum)
Have A Parking Permit Design Ready To Go?

Get an on-line quote in less than a minute. Share it with colleagues. Save it. Order when ready! If you know the size and materials you need and have parking permit artwork ready to go, simply click on the Get Instant Quote tab to see your price and order your permits. 

Need Design Help?

We can help! Select from dozens of popular designs. You can add your text and logo to any design. We offer parking permit designs that are time tested for easy readability. 
Need Options?

We also offer hang tags and window decals in a variety of shapes and sizes. We use materials such as PVC, static cling and vinyl with permanent adhesive and destructible reflective vinyl.

Options include barcodes and logos – for free of course. We can print variable data from your parking permit files whenever you're ready.

Use our fast design online design tools to get a proof of your parking permit, instantly, right in your browser! Or, if you have custom artwork ready to go, we make it easy to upload your files with your order. 
Easy to order hang tag or window decal parking permits. Add a logo, barcodes, or custom artwork. Printed in 7 days; 125 minimum.