Custom Roll Labels Printed from Your Artwork
Want To Add Your Review
After you receive your order, you may receive a confirmation email with a link to our Customer Satisfaction Survey.
We ask you to rate us for:
- Price / Value
- Quality
- Service
We ask you to use this scale: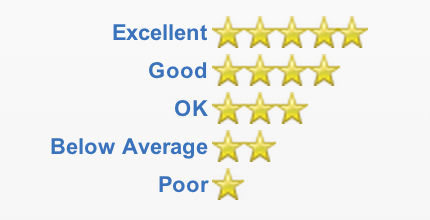 Your rating and your comments are automatically added to our on-site customer review pages. We only use your initials when posting reviews. Ratings and comments are posted as received.

We reserve the right to censor certain language, regardless of the intention - good or bad.
×
Roll labels can be custom printed for almost any label use. Choose from 18 materials to create labels that are perfect for many applications. We offer 8 different shapes to choose from. Our instant Online Quoter helps you quickly create and save an online quote for your roll label job.
Custom Labels On Rolls with Up to 4 Ink Colors
Choose from 18 different materials (such as flexible film, white high gloss, and direct transfer) and add a laminate to protect your roll labels from wear or to simply give your labels a professional, glossy-look.

With a standard production time of 3-to-4 days and dozens of sizes to choose from, MaverickLabel.com can inexpensively fulfill all your company's needs for custom sticker rolls. Choose hand applied or machine applied and we will suggest unwind directions. And don't forget to add perforation between labels, if you need it!

Custom Roll Labels Information:

Used for sticky labels, including: indoor labels, outdoor labels, chemical-resistant labels, water-resistant labels, abrasion-resistant labels, labels subject to harsh conditions or gloss labels with colors that really pop.

 - Minimum order is 500 labels
 - Printing time is 3 to 4 days
 - 1 to 4 PMS colors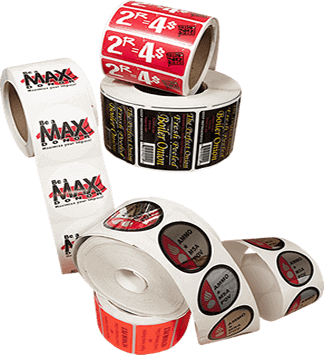 Specifications:
SHAPES & SIZES

 • Round Corner Rectangles (from 1/2" x 1 1/4" up to 6 1/2' x 6")
 • Round Corner Squares (from 1" up to 6")
 • Circles (from 1/2" up to 5")
 • Ovals (from 3/4" x 1 3/8" up to 2 1/2 x 4")
 • Seals (from 1" up to 2 3/4")
 • Hearts
 • Wavy Squares
 • Square Corner Rectangles & Squares (up to 70 sq inch)
 
WHY CHOOSE A ROLL LABEL?

- They are an excellent value.
- They are available in many standard & custom sizes, shapes, materials and printing options.
- MaverickLabel.com offers these custom printed roll labels along with options for blank or pre-printed labels on rolls.
OUR OPTIONS

 • Up to 4 standard & PMS colors
 • High gloss laminate
 • Lots
 • 3", 1" or 3/4" cardboard cores
 • Perforation between labels
Why Maverick?
The Right Options.

Since roll labels can be used for almost any application, we guide you to the right combination of materials and adhesives – based on the way you intend to use your labels. We offer up to 4 PMS ink colors – so these are not complex digital or full color labels. Just pick colors from the ink chart or enter your own PMS ink colors.

Selecting a size and shape is straightforward. Just choose a shape and we'll show you all of the sizes available for that shape. You can even pick a roll core size and even the direction that we print your sticky label artwork. We show the most common and popular choices for many of the available custom roll labels we offer.
Instant Pricing - Easy Online Ordering.

Ordering custom roll labels is easy, too. There are no complicated design tools to learn, no crazy price tables to figure out and no sales people involved. Once you've chosen your options, you'll instantly see pricing for the quantity you entered and we'll show you accurate volume discounts. When you're ready to order your sticky labels, we walk you through an easy artwork upload and check out process. Of course if you need help, CustomerCare is just a click or a call away. How's that for easy to order custom roll labels?
Custom Sticker Rolls Are Versatile.

Labels on a roll are the perfect fit when you need a sticker that is capable of many uses.

Popular Uses Include:

✔ Abrasion resistant labels
✔ Chemical resistant labels
✔ Water resistant labels
✔ Laminated labels
✔ Indoor labels
✔ Outdoor labels
✔ And many more . . .

Businesses use custom-printed roll labels because their custom artwork can be used in up to 4 PMS ink colors. Whether it is a logo, a message or a combination of the two, these labels are a great choice.
Custom Roll Labels printed in 1 to 4 ink colors and in many sizes - printed in 3-4 days. Minimum 500 custom labels.