Fast 1 To 5 Day Turnaround For Custom Bumper Sticker Orders Printed From Your Artwork
Want To Add Your Review
After you receive your order, you may receive a confirmation email with a link to our Customer Satisfaction Survey.
We ask you to rate us for:
- Price / Value
- Quality
- Service
We ask you to use this scale: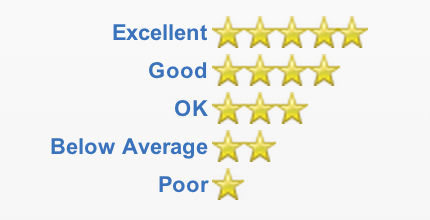 Your rating and your comments are automatically added to our on-site customer review pages. We only use your initials when posting reviews. Ratings and comments are posted as received.

We reserve the right to censor certain language, regardless of the intention - good or bad.
×
Our custom bumper stickers are printed on durable vinyl - not paper. We also add a protective laminate that gives your bumper stickers an extra layer of protection against the elements - at no extra charge.
Bumper Sticker Information:
Popular Sizes. Instant Pricing.

• Custom bumper stickers are available in at least 5 rectangular shapes and the popular oval shape. Choose your size, printing colors and material and you'll see your price displayed online instantly. You'll also see volume discounts and a shipping cost calculator. Your custom bumper stickers are just a few clicks away.

• Choose from full color bumper stickers for photos and higher end graphics or spot color bumper stickers for simple text and line art designs.

• You provide the artwork and we'll print your order of quality custom bumper stickers in 1 to 5 days depending on your quantity and printing choices.

We do not print images or copy that includes profanity, x-rated material or material that we deem offensive.
Materials:
White Repositionable Vinyl 


• Matte white finish
• Permanent-repositionable adhesive
• 60# face material
• 40# liner material


Calendered white vinyl with a permanent, pressure sensitive adhesive. A 3-5 year outdoor durability rating.

Clear Repositionable Vinyl 


• Clear finish
• Permanent-repositionable adhesive
• 3.5 mils face material
• 40# liner material

Plasticized vinyl can be used just like static cling but can be put on more materials including plastics, paints, paper, cartons, etc..

Paper Liner for White and Clear Repositionable
Vinyl

Printing On The Paper Backing: You can add printing to the paper backing - or liner – of your bumper stickers for an additional charge.
• Black ink only
• 2 to 5 day turnaround
For an additional charge, the liner can be printed in black ink only from any artwork you provide.
This option adds 1 day to turnaround time and is not available with quantities under 1000 or the 3" x 9" ad 4" x 6" oval size.
Specifications: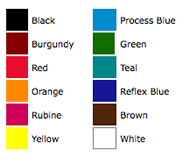 Ink Colors For 1, 2, and 3 Color:

The most popular bumper sticker printing colors come from the Pantone Matching System, or PMS. PMS is a "solid-color" matching system, used primarily for specifying second or third colors in bumper sticker printing - meaning colors in addition to black, (although, obviously, one can certainly print a one-color piece using a PMS color and no black all).



CMYK:

CMYK or process color printing is used to print color photographs and sophisticated graphics that include more than 3 different ink colors.
Even single color bumper stickers with gradient screens and intricate details should be printed using CMYK. Our CMYK bumper sticker printing is done with digital printing devices that print detailed images and graphics with the best possible clarity – or resolution.
Standard Sizes:

These are our standard bumper sticker sizes and shapes.
• 2 1/2" x 9 1/4"
• 2 3/4" X 5"
• 3" x 10 3/4"
• 3" X 11 1/2"
• 3 3/4" X 7 1/2"
• 3 3/4" X 15"
• 3" x 5" Oval
• 4" X 6" (Oval)
• 5" Circle
If you need a size or shape not shown here, please contact CustomerCare for help.
Why Maverick?
Fast 1 to 5 day turnaround times.
It's hard to beat our competitive prices and our fast 1 to 5 day turnaround times. And, with a low 125 minimum order of the most popular selection of bumpersticker materials & shapes, it's easy to see why our customers keep coming back for promotional, campaign and all kinds of custom bumper stickers.  


Something for nothing. That's us.
We add a premium protective laminate to every bumper sticker order – FREE. We do that because we know that you want your bumperstickers to weather the elements for as long as possible. Our free laminate does the trick.  


Get in shape.
It's easy to do with our selection of the most popular shapes of custom bumper stickers. Our offering includes rectangular and oval bumper stickers in over a half dozen sizes. We print them all on premium quality bumper sticker materials that resist the elements, stay put and leave no residue when removed.  
Here are just a few more reasons why customers just like you turn to us every day for their custom bumper sticker printing needs:

- Fast!!! 24 hour to 5 day Bumper Sticker production time.
- 100% Bumper Sticker satisfaction guarantee.
- Bumper Sticker prices are quoted as total costs, not per 100.
- Choose from PMS/spot color or CMYK/process color Bumper Sticker printing.
- Largest selection of Bumper Sticker materials and styles.
- Premium quality durable vinyl - not paper - with protective laminate applied FREE on every order!
- No residue bumper sticker adhesive - sticks great - stays put.
- Order as few as 125 printed bumper stickers. 
From campaign bumper stickers to promotional bumper stickers:

Your custom bumper sticker design is just waiting to be printed. Here's a partial list of great bumper sticker applications:

₋ Campaigns & Candidates
- Causes and Initiatives
- Radio Station Promotions
- PTA / PTO
- School, Club & Team Athletics
- Golf Clubs & Courses
- Auto Dealers
- Realtors
- Chambers of Commerce
- Resorts & Hotels
- Retailers Of Every Kind
- Churches & Youth Groups
- Bands
And many, many more!
Custom Bumper Stickers from the premier online source for custom labels. Custom bumper sticker printed from your artwork. Terrific pricing.