Control Panel Graphic Overlays
Printing In Four Days Or Less – Minimum 1 Quantity
Want To Add Your Review
After you receive your order, you may receive a confirmation email with a link to our Customer Satisfaction Survey.
We ask you to rate us for:
- Price / Value
- Quality
- Service
We ask you to use this scale: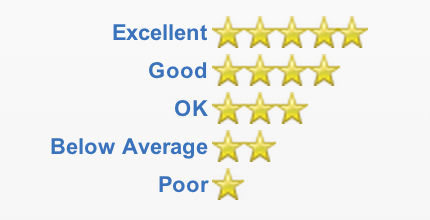 Your rating and your comments are automatically added to our on-site customer review pages. We only use your initials when posting reviews. Ratings and comments are posted as received.

We reserve the right to censor certain language, regardless of the intention - good or bad.
×
We are the online complete source for short run custom control panels, graphic overlays, name plates and subsurface printed materials including Lexan® and our exclusive LexSaver®.

• Any size, any shape and any design
     (For metric sizing see Equipment Labels.)

• RoHS and UL compliant materials

• NO DIE OR TOOLING CHARGES
We offer a seamless process with Online Quoting and Quick Turnaround!
In only 4 days or less, your custom graphic overlay or other short run product will be on it's way to you.

Not only do we save you time – we can also save you money!

We specialize in one-off, prototypes, and replacement parts.

We offer a variety of materials to suit your custom graphic overlay and name plate needs. We offer UL materials, RoHS compliant materials, subsurface printed materials including Lexan® and materials developed to meet different environmental situations.

- Clear 10 mil Lexan® (polycarbonate)
- 7 mil velvet LexSaver®
- 10 mil velvet LexSaver®
- 10 mil velvet LexSaver® plus poly
 
Materials:
Lexan® - Matte 10 mil is a semi-rigid, matte clear 10 mil Lexan® (polycarbonate), with a matte finish on the top surface perfect for Nameplates, Membrane Switchpads and Graphic Overlays.

LexSaver® is a Maverick original overlaminate-substrate material combination.

LexSaver® can be an excellent alternative to more expensive and less flexible Lexan® and other substrates.

LexSaver® is not actually a printable substrate, but rather our unique process of combining a 5 mil velvet Lexan® overlaminate with any of our standard substrates.
 




When Lexan® Polycarbonate is selected as your material of choice, there is an option for adhesives. We offer your choice of three 3M brand adhesives to suit your needs.

-3M 467 – 2 mil adhesive smooth surface
-3M 468 – 5 mil adhesive rough surface
-3M 300-LSE – 2 mil adhesive for Low Surface Energy surface

We offer 50+ printing colors to choose from. These printing colors will be opaque. If your graphic overlay or faceplate has transparent windows, white will automatically be chosen to back all printing in these colors.

Six of the 50+ colors meet the industry standard for ANSI safety colors and may be used for safety and caution signs. If you wish to use an industry-standard ANSI safety color in your label, you should select from Fireball Red 485, Safety Orange 152, Yellow 7405, Green 3415, Intense Blue 2945, or Safety Gray 430.
Specifications:



Control Panel Shapes & Sizes:

Virtually any size and shape in any design can be precision cut to your specifications with NO DIE or TOOLING CHARGES.

(For metric sizing of control panels in millimeters see Equipment Labels.)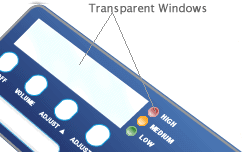 Transparent Windows:

Transparent windows can be clear or printed with one of our 8 transparent colors on all materials with the exception of the LustreLook. Please keep in mind that the velvet finish on our Lexan® or LexSaver® products will diffuse the light being transmitted through the window.

Cutouts:

Internal cutouts are all cuts in addition to the perimeter of your graphic overlay. Tolerance for perimeter and all internal cutouts is +-.010"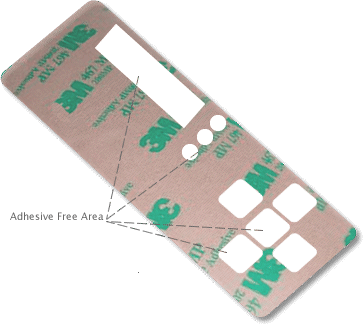 Adhesive Free Areas:

Windows and areas where the graphic overlay will cover push buttons are areas where adhesive may not be desired.

We recommend our 10-mil Lexan® polycarbonate for Graphic Overlays with adhesive free areas for best results as the adhesive is applied after the subsurface printing is complete.

Adhesive areas can come in almost any shape and size. A minimum .250" of adhesive is required at the perimeter for guaranteed adhesion.

Specify adhesive free areas in your art file. Allow .050" tolerance around all windows.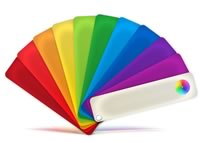 PMS Color matching:

In addition to our standard colors, we can produce hundreds of other PMS colors by combining our standard colors below.

(Note that this technique will always be more costly than using a single standard color, and it is not appropriate for certain types of graphics like small text or thin lines where registration of the two colors would be a problem.)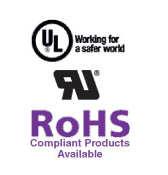 UL & RoHS complaint:

Many of our graphic overlay products meet the requirements for UL (Underwriters Laboratories) recognized systems and are also RoHS (Restriction of Hazardous Substances) compliant.

UL compliance - If your graphic overlay or nameplate requires UL recognition, be sure you have checked the UL box at the top of the quoter. This will limit your options to only those that fit the UL criteria. All of our graphic overlay printing colors qualify.

RoHS compliance - If your graphic overlay or nameplate requires RoHS compliance, you can be assured that all of our materials and adhesives will meet your needs. The transparent colors and standard printing colors are all compliant with the exception of any color containing yellow or orange.
Why Maverick?
We offer a seamless process with Online Quoting and Quick Turnaround!

In only 4 days or less, your custom graphic overlay or other short run product will be on it's way to you. Not only do we save you time – we can also save you money!

For prototypes, custom graphic overlays, overlays and short run projects, we just cannot be beat.
Save Money With Maverick!

We're not like most suppliers; we produce your graphic overlays and other short run products with no Tooling or Die Charges for unique shapes and internal cutouts. If you can design it, we can print it! Your free online digital proof will ensure your order prints to spec. You can count on us for innovative money saving solutions like our LexSaver® material. This could be just the cost saving material you've been looking for when flexibility and durability are at the top of your requirements list. Oh yeah, we provide you with a free digital online proof - or just purchase a single prototype with your order.
The Options You Must Have!

Rest assured, we carry RoHS compliant materials and UL recognized materials too. We offer some of the toughest materials the industry has to offer, from Lexan® to our own LexSaver® products, which have been strength tested to stand the test of time and abuse Graphic Overlays take. Heat, abrasion and push button actuations are no problem for our materials.
LexSaver® The Durable – Affordable Alternative Short run equipment kit

The most common substrate is 2 mil white polyester, and when used in place of subsurface printed Lexan®, a graphic overlay or nameplate produced with the LexSaver® process can be more economical for jobs which would otherwise require a white flood coat and have a large number of internal cutouts.
Graphic overlay and control panels, metric or imperial sizes, with subsurface Lexan® printing. Graphic overlays are custom labels digitally printed in four days or less.