Domed Labels And Domed Stickers
Instant online pricing with 10 day or less turnaround on 1 or more domed labels.
Want To Add Your Review
After you receive your order, you may receive a confirmation email with a link to our Customer Satisfaction Survey.
We ask you to rate us for:
- Price / Value
- Quality
- Service
We ask you to use this scale: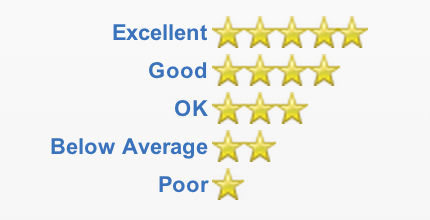 Your rating and your comments are automatically added to our on-site customer review pages. We only use your initials when posting reviews. Ratings and comments are posted as received.

We reserve the right to censor certain language, regardless of the intention - good or bad.
×
Our domed labels feature a thick, yet crystal-clear, polyurethane dome laid over flat label stock to create the unique domed label appearance.

Our most common domed label and domed decal material is our 2mil shiny silver chrome material. We also offer 2mil brushed silver, 2 mil gold, and 2mil white through our online quoter. We have a variety of other materials available on a special order basis.
Domed Labels Information:
Our "domes" protect the printing and give your domed tags a deep, three-dimensional (3D) look. Domed tags are weather and UV resistant.

 • Full Color Label Printing

 • Clear Polyurethane Dome Labels and Tags

 • Standard & Custom Sizes / Shapes

 • Minimum Order Is Just 1 Dome Label

 • Dome Labels Printed In 10 Days Or Less 

 
Popular Materials and Uses For Domed Labels:
2mil Shiny Silver Chrome (most common material)

Our most popular domed material, a bright silver foil finish with a 2 mil adhesive.

Shiny silver chrome looks especially vivid against opaque ink colors.

A horizontal grain in the matte silver finish creates a distinctive and strong industrial look on label.

Normally produced with opaque inks and a standard 2 mil adhesive.

4/C process (also known as CMYK) on white film.

A bright white with a 2 mil adhesive, available for indoor or outdoor use.

We build your PMS colors from CMYK and in cases where color is critical we can match to a supplied sample or custom run using PMS inks.
A wash of transparent gold ink on our CHROME material creates this high end, gold foil look.Can be manufactured with opaque and transparent inks, comes with a 2 mil adhesive.

This sample kit shows you each material, ink type and custom shapes, too

Here are just a few examples of dome label applications that we've worked on with our customers:


- Cars, Boats, Vehicles
- Computers, Electronics
- Unique Corporate Gifts
- Name Plates and ID Labels
- Appliances
- Tools and Hard Hats
- Sporting Goods
- Advertising, Promotions
- And many other uses as shown in our FREE sample kit



Specifications:

What is used to create the dome?

The top layer of a dome label is formed when polyurethane liquid is poured over the printed label material. The dome takes a period of time to cure and harden into a crystal clear protective coating that gives the domed decal the high-end look your customers will notice.

Shape & Size

Any shape without square corners or with a corner radius greater than 0.10" can be produced. Custom sizes and shapes can be produced as well.
Ink / Color

Domed labels and domed stickers are digitally printed, four color labels with a dome applied. We "build" your spot colors and Pantone® colors from CMYK, therefore there is no additional charge! When requesting PMS matches, request a sample proof to verify color match.

The difference between transparent ink and opaque ink:

Transparent inks can give your domed label an attention getting "pop" that your customers will notice and transparent colors are free! Transparent inks allow the sheen of the label material to show through the dome material, making the inks look shiny. This is most apparent with the silver chrome label material. Specify transparent ink areas in your Adobe® Illustrator™ vector file.
Why Maverick?
Experts Don't Experiment.

Making domed labels takes experience. After years of working with premium materials, we've developed the industry standard for making domed stickers. We get the label printing right and the polyurethane liquid thick enough and clear enough to create great looking, durable dome labels.

We've printed domed tags for more than 10 years. We know which label materials provide the results you're after – including the sought after 3D effect. We know when to help you choose transparent ink or opaque ink. We know how to use silver or gold or chrome materials that will give your domed stickers the look you want. That's experience that we put into every domed decal we print – for every customer – every time.
Experts Know How To Say "FREE".

When we say "extra charges don't apply", they don't. We offer these domed label features – free:
- Free proof in full color digital format
- Free transparent inks for that deep, rich 3D effect
- Free choice of materials from matte white film to brushed silver
- Free expert advice from the leading dome labels and tags customer service team
Experts Know How To Do "FAST".

We ship custom printed domed stickers in 10 days or less. You can be confident that your dome label order will ship on time. Get your domed sticker from MaverickLabel.Com – the dome label and tag experts – and we'll ship them as promised.
Domed Labels and Domed Stickers from the dome labels experts. Instant pricing with 10 day or less turnaround on 1 or more domed custom labels.