Blank Labels - Stock or Custom Printed for Many Applications
Choose the blank labels you need from the selection below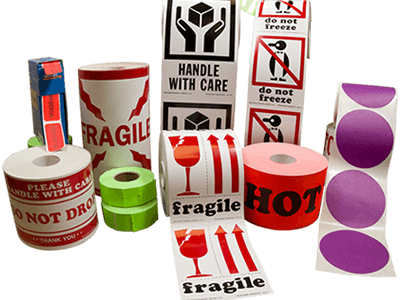 You have come to the right place for blank labels of every kind! To help you find the right blank labels, we have displayed all of our blank labels below.

Just click on the pictures or links for more information. We have blank labels for all kinds of printers including laser, inkjet and thermal. We also have a large offering of off-the-shelf blank labels in a variety of colors, sizes and shapes.

All blank labels can be instantly priced and securely ordered online. Typical turnaround time for blank labels is just 24 hours.
Please contact CustomerCare with any questions.
Features of Our Blank Labels
- Off-The-Shelf Blank Labels In Many Colors and Shapes
- Laser and Inkjet Compatible 
- Direct Thermal and Thermal Transfer 
- Low Minimum Order Quantities
- Fast Turnaround
- INSTANT ONLINE PRICING AND SECURE ORDERING!
6 easy questions to help you find what you are looking for.
Product Finder
Our selection of Blank Labels
About Blank Labels
Blank labels have no custom artwork or numbering. Many blank labels cane be modifed and printed by you on your laser, inkjet or thermal printers. We also include certain blank roll labels in this category. Roll labels that are blank are available in many colors, shapes and sizes and are used for everything from blank inventory labels to blank filing system labels. We also offer blank hologram labels for security and other uses, shipping label and packing slip labels to streamline distribution and retailers will find other blank price stickers on our site, too.

Materials for blank labels are typically paper based with permanent adhesive. A few blank labels are available with removable adhesive, enabling you to print your artwork on blank labels that can later be removed without leaving residue behind. This is a great option for printing custom bumper stickers from blank label stock, for example. Note: Bank labels are paper based and have limited wear for outdoor use.

All of our blank labels are pre-cut to specific sizes and shapes. Our entire blank labels offering includes hundreds of sizes and shapes for almost any paper label application. You will find blank labels in rectangles, circles, squares, ovals and some special shapes such as starbursts. From blank labels for dvds to blank labels for addressing mailing, there are blank labels to meet your needs.

MaverickLabel.Com® is the fast turnaround leader in easy to order, affordable blank labels. Be sure to contact CustomerCare with any questions or special needs for your blank labels project.



MaverickLabel.Com® is the leading online supplier of blank labels, custom printed or off-the-shelf, for many applications.