Custom Embossed Labels From Your Artwork In 5 Days Or Less
Embossed labels in your choice of materials and sizes. Order as few as 500!
Want To Add Your Review
After you receive your order, you may receive a confirmation email with a link to our Customer Satisfaction Survey.
We ask you to rate us for:
- Price / Value
- Quality
- Service
We ask you to use this scale: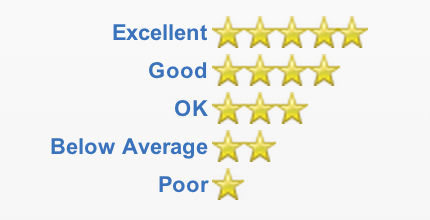 Your rating and your comments are automatically added to our on-site customer review pages. We only use your initials when posting reviews. Ratings and comments are posted as received.

We reserve the right to censor certain language, regardless of the intention - good or bad.
×
Embossed Labels. Custom labels printed and embossed from your artwork. Embossed foil stickers with 500 minimum and 5 day or less turnaround.
Prestige.
In a word, embossed labels add an air of prestige to products and correspondence. We help you create the air of prestige with embossed label options that few others can rival. For starters, we create a free custom made hot stamping die, sometimes called a "tool" or "cameo", unique to your artwork or message. Hot stamping your custom die provides the deepest, richest contrast possible for embossed labels.

Prestigious premium foil labels are more affordable than you might think.

Use our instant online quoter to see how affordable your embossed labels can be. 3 day standard turnaround time should be fast enough for you to avoid costly expedited shipping options. And, a 500 count minimum lets you order only what your budget can handle.

Of course, volume discounts apply starting at just 1,000 labels.
 
Specifications:
Short List of Embossed Label Features:

 • Embossing done using heat stamping method

 • Foil, paper and kraft materials - Printing can be added in up to 3 colors

 • Dozens of standard shapes and sizes

 • 3 days or less turnaround & 500 minimum

 • Not for outdoor use
This is the right solution when you need:
 - Hot stamping (Cameo) method
 - No set up fee for embossing die
 - Multiple material options
 - Standard shapes and sizes
 - Printing with embossing
 - Premium adhesives

This is the right solution for these applications:
 - Logos
 - Anniversaries
 - Commemorative seals
 - Special edition "proofs"
 - Special product features
 - Special edition messaging
 - Professional seals and stamps
Premium materials.

Your embossing will be done on your choice of over a dozen standard materials, including gold and silver foil, brown kraft and the most popular paper colors. Each material is available in your choice of dozens of standard shapes and sizes specifically chosen for use as embossed labels. Each label is cut-to-size based on precise requirements, giving you the premium look that your embossed labels deserve. Embossed labels feature permanent adhesive that will keep your labels stuck in most product and correspondence applications.
Why Maverick?
Get precise.

Creating noteworthy embossed labels is all about precision. From our precise "hot stamping" dies to our precision cut foil label shapes, we give you the foundation to build exceptional embossed labels. For example, we offer more than just traditional gold or silver foil materials for embossing. Or, choose to have your artwork embossed on white paper and then highlight the embossed image with up to 3 ink colors - standard or PMS.
Think value.

Why order more embossed labels than you need? Sure, we can help you cut your per-label costs with very competitive higher volume price discounts, but perhaps you should consider our low 500 minimum order quantity to help keep your overall outlay in-check. We crank up the value for you with free custom embossing dies and our fast 3-day standard turnaround. That's right, our 3-day standard turnaround on embossed labels means that your order should arrive in plenty of time – using low-cost ground shipping. Of course, we do offer all of the expedited shipping options available – but why pay more when you don't have to.
Embossed Labels See The Difference.

Not all embossed labels are created equal.

Creating embossed labels that really pop – with that deep rich contrast look – takes expertise.

We have that expertise. We make our embossed labels using the old school, hot stamped method.

Only hot stamped embossed labels give you the true sense of depth that you should expect.

If you expect great embossed labels, choose MaverickLabel.com. The embossed labels experts.
Embossed Labels. Custom labels printed and embossed from your artwork. Embossed foil stickers with 500 minimum and 5 day or less turnaround.