Custom Product Labels – Video
Our custom product labels can be printed with traditional spot color or photo-quality full color. We offer a number of label options so your product label gets noticed and provides the right information. Consider the options you want:
• Will a standard shape and size work, or will you need a custom-cut label? We have 8 standard shapes in multiple sizes on the spot color line, and 5 on our foil line. Custom-cut is available with our full (process) color labels, along with 5 standard shapes.
• Will the label need barcodes or UPCs?
• Will it be exposed to water or oils? Vinyl, polyester, or polypropylene labels may work better for this; laminates will increase resistance to moisture.
• Is your artwork full color, or spot color? Do you want foil for that extra pop of color?
• Would you want different versions of the same basic label? With our "lot" method, you can order label versions with different text and artwork as part of the same order, as long as the material, shape, and size remain the same. Available on spot and full (process) color lines.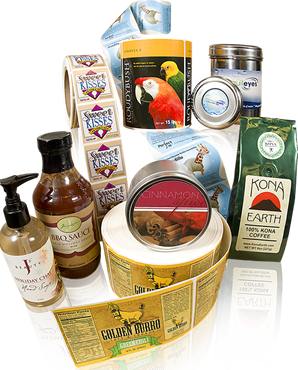 Our product labels are available in spot (1-3 color choices) or full color and can be delivered on rolls or as individual pieces. Our foil product labels allow for a choice of up to 3 colors from 16 standard colors and 9 foil colors.

Features of Product Labels
• Print time of 1 to 5 days, depending on options selected
• Small minimum orders – 100 spot color, 250 full color, or 500 foil
• Wide variety of materials available, including paper, metalized paper, foil, polyester, vinyl, BOPP.
• No set up fees
• Multiple version discounts

If you have any questions, please contact CustomerCare.
Custom product labels for every product application, budget, and timeframe.