Custom-Printed Laser/Inkjet Labels – Video
These mailing and shipping labels are printed with the design you provide, giving you the flexibility you need for your products. Simply finish the labels in your own printer, saving time and toner!

1-2 spot colors or full color (CMYK) available.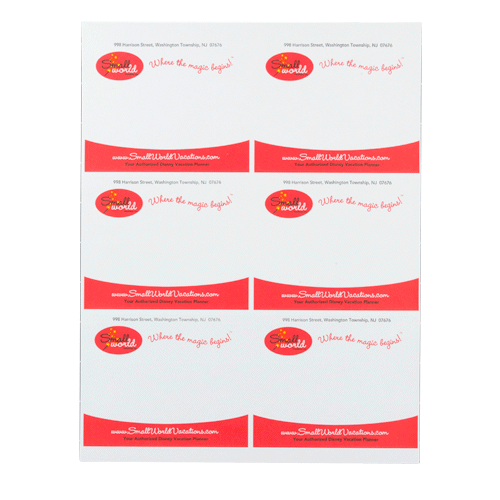 Four material choices for laser and inkjet printers, and three more for laser printers only. The clear polyester may have adhesive on either the face side (so it can be applied to the inside of glass, to be read through it) or the back side.

Features of Laser/Inkjet Labels
• Choice of 11 different configurations (from 4 labels up to 32 labels per sheet)
• 1-2 colors from standard colors, or full color.
• Minimum order for full color labels is 50 sheets; 1000 minimum for spot color
• Fast 3-4 day turnaround

If you have any questions, please contact CustomerCare.
Custom printed paper peel-and-stick labels, designed to be compatible with laser and inkjet printers.