Custom Control Panels and Graphic Overlays – Video
Graphic overlays are usually the first thing that an end user sees when interacting with a machine or product, so the overlay has a big influence on the customer's first impression. Whether you need cutouts, adhesive-free areas, transparent windows – in up to 8 different transparent colors, plus clear and dead-front black! – we can create the graphic overlay you want.

RoHS and UL-compliant products available. Sequential numbering and other variable data may also be added to panels and overlays.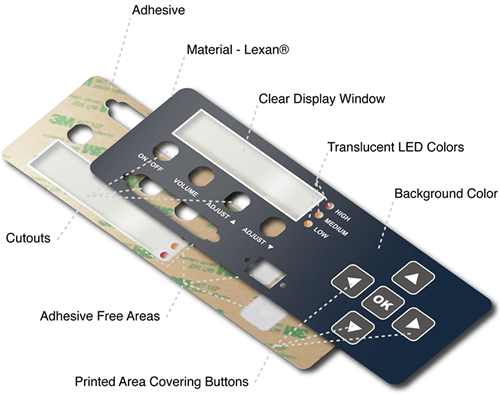 Lexan® polycarbonate is sub-surface printed, so it doesn't degrade or wear off from use or cleaning. You can choose between three different adhesives with our 10-mil Lexan® - for rough surfaces, smooth surfaces, or Low Surface Energy surfaces. LexSaver® and LexSaver® plus come in two different thicknesses, 7-mil or 10-mil. LexSaver® is a more flexible product.

Features of Graphic Overlays/Control Panel Labels
• Speedy turnaround – as few as 4 days after proof approval!
• Any shape, any size, any design
• Choice of colors (no limit)
• Minimum order is 1
• No die or tooling charges
• RoHS and UL-compliant materials

If you have any questions, please contact CustomerCare.
If you can design it, we can print it. No tooling or die charges for unique shapes or internal cutouts.