Get Organized with AssetTracker® Asset Tags – Video
Our exclusive AssetTracker® tag was specifically designed with the entire asset workflow in mind.

AssetTracker® labels come complete with a large tag for the primary asset and three (3) smaller detachable tags, with matching numbers and/or barcode. You can apply these "side trackers" to secondary items like paperwork, documentation, peripherals, or software licenses. This links the primary asset with other related assets or documentation.

In fact, HelpDesk staff here at MaverickLabel.com use AssetTrackers to tag all our own equipment. The large tag goes on the computer or other device, one small tracker goes on the packing list to Accounting, one may end up on a warranty receipt, and another on any peripherals that we want to keep associated with the main piece of equipment.

The tracking set all share the same asset number and barcode, so no matter whether someone scans the ID number from the device or from documentation associated with it, the equipment information will come up in our database. No more struggling to remember if this warranty covers that device or which laptop was purchased from this particular vendor, and no more cross-communication – Accounting automatically has the same property ID as IT, even if they never see the device itself. So much easier!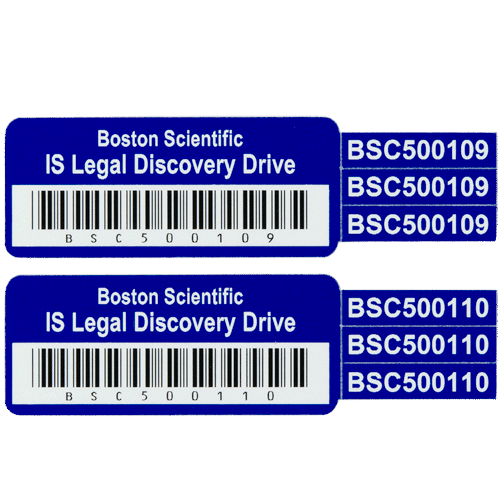 AssetTracker® labels can be easily designed online. Logo, barcoding and/or serial numbering are available for no additional cost. Any of the asset tag materials can be used for these. (Because we only have indoor equipment that is not subject to harsh handling, we generally use the metalized matte silver polyester in-house, but your needs may vary. See our Asset Tags Materials videos to see which application each is best for.)

Features of AssetTracker® Tags
• Large asset tag is 2 ¼ inches by 9/10 inch (54x23mm).
• The three smaller tags (side trackers) are 1 inch by ¼ inch (25x6mm) each – small enough to be placed on almost anything, but big enough to easily see and scan.
• Side trackers are pre-cut and ready to use.
• Based on material chosen, these asset tags may be used for indoor or outdoor applications.

If you have any questions, please contact CustomerCare.
AssetTracker® tags help keep your asset inventory organized across multiple departments.