Directional Floor Decals and Social Distancing Labels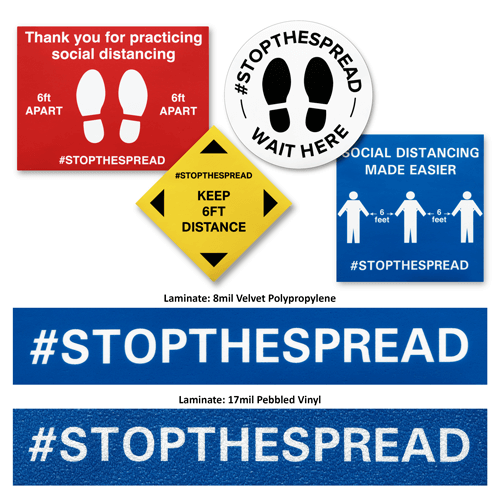 Social distancing guidelines require businesses to institute new policies that keep their employees and customers safe. We have created stock floor decals to help. These stock decals are produced in 1 day. They are produced with your choice of 2 laminates to provide a slip-resistant walking surface.
• Durable as floor decals or wall signage.

• Perfect for social distancing messaging.

• Made with 4mil White Vinyl and an 8mil Velvet Polypropylene laminate or 17mil Vinyl Slip-Resistant laminate.

• Easy to install and remove with our residue free adhesive.

• Multiple sizes and shapes.

• Quote online or for custom applications or materials, contact our customer care team by chat.
CUSTOM ORDERS CLICK HERE
Social Distancing Floor Decals printed in 2-4 days. Our Floor Labels have a durable slip-free cover. Use our stock art or print from your uploaded custom art. Free Shipping*