Off-The-Shelf and Custom Printed Printable Labels
Printable Labels For Desktop Laser, Inkjet and Thermal Printers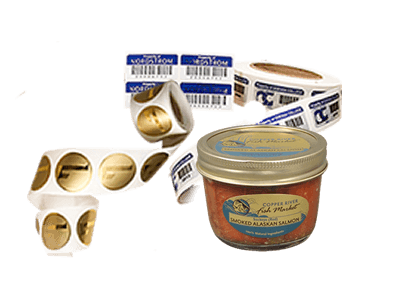 Competitive prices and instant online ordering of printable labels. We offer printable labels that are blank as well as printed. Our blank printable labels include many Avery®-like label sheets and integrated labels that combine a packing list and shipping label into one printable label sheet. Some printable labels can come pre-printed with standard designs, shipping labels are an example, while others can be custom printed in specific areas from your artwork. All of our printable labels can be instantly priced and ordered securely from your browser.
Please contact CustomerCare with any questions.
Here's A Partial List of Printable Label Features
- Instant Online Pricing and Ordering
- Printable Labels Custom Printed and Off-The-Shelf
- Any Dimension You Need
- Blank, Imprinted and Custom Printed Options
- Low Minimum Order Quantities
- Fast Turnaround
- INSTANT ONLINE PRICING AND SECURE ORDERING!
6 easy questions to help you find what you are looking for.
Product Finder
Our selection of Printable Labels
About Printable Labels 
Printable labels are specially made to be able to be printed on different types of printers. We offer printable labels for laser, inkjet, thermal and pinfeed printers. While most printable labels are provided blank, some printable labels can have artwork preprinted on them prior to use. Special inks are used to preprint artwork on printable labels that are partially printed by us before you run them through your printer.
The most popular printable labels are blank stock laser and inkjet compatible labels. We offer hundreds of printable labels for desktop printer use for everything from address labels to name badges. The fastest growing application of printable labels is integrated shipping label and packing list sheets. These printable labels combine a packing list and the freight carrier shipping label into a single sheet. The printable shipping label sheet works with most desktop printers, reducing shipping errors and turnaround times. 
We can pre-print some of our printable labels for you. Customers do this to enhance the print quality of key artwork, such as logos. Customers also have printable labels partially pre-printed to speed up overall label printing times. And, some printable labels are used in thermal or black toner printers that cannot print in color. For these applications, we ship printable labels with color artwork already in place on the labels.
MaverickLabel.Com® is the online supplier of printable labels. If you have any questions about our printable labels, please contact CustomerCare.



MaverickLabel.Com offers stock and custom printable labels. Secure and competitive instant online pricing. Fast, dependable turnaround.