Off-The-Shelf and Custom Printed Label Sheets
Label Sheets For Desktop Laser and Inkjet Printers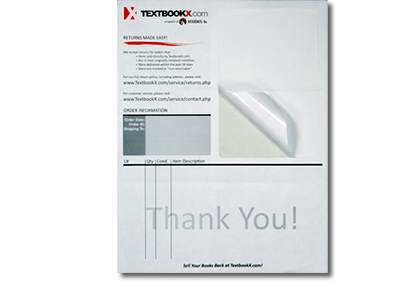 We offer label sheets in several categories. Label sheets that are Avery®-like blank labels for desktop printers are our most popular label sheets. We also offer imprinted label sheets for use as shipping labels. And we offer custom printed label sheets for uses such as shipping label and packing list combinations and for use in medical labs. Whichever type of label sheets you need, count on MaverickLabel.Com® for competitive pricing, instant online quotes and secure ordering. Depending on the label sheets you need, turnaround time will be as fast as 24 hours to no more than 10 days.
Please contact CustomerCare with any questions.
Here are Some of the Features Offered for Label Sheets
- Instant Online Pricing and Ordering
- Hundreds of Off-The-Shelf Avery®-Like Label Sheets
- Imprinted and Custom Printed Label Sheets
- Popular Options For Almost Any Application
- Low Minimum Order Quantities
- Fast Turnaround
- INSTANT ONLINE PRICING AND ORDERING!
6 easy questions to help you find what you are looking for.
Product Finder
Our selection of Off-The-Shelf and Custom Printed Label Sheets
About Label Sheets 

Label sheets are manufactured to be printed on laser and inkjet printers. Most label sheets are blank when you receive them though some label sheets, such as shipping labels, do have preprinted designs or text. Some label sheets are a combination of a label and a printable document often used with shipping software. We use special laser and inkjet safe inks for preprinted and custom label sheets to provide compatible printing with almost any desktop printer.

By far, our most popular label sheets are blank. Our offering is much bigger than you'll find in Office Superstores and our pricing on label sheets is very competitive. Our blank label sheets offering includes hundreds of sizes and styles for applications that range from name badges on label sheets to address labels on label sheets.

Our newest label sheets are perfect for busy shipping departments. We combine the shipping label and shipping document into integrated label sheets. Integrated label sheets eliminate the need to constantly match shipping labels and packing lists, reducing errors and streamlining distribution. Our integrated shipping label sheets feature stay-flat labels guaranteed to be compatible with most desktop printers. Choose from blank or custom printed shipping label sheets.

MaverickLabel.Com® is the leading online supplier of label sheets. If need help with label sheets, please contact CustomerCare.



MaverickLabel.Com® is the leading online supplier of Off-The-Shelf & label sheets.