Laser Mailing and Laser Shipping Labels
Custom Printed From Your Artwork
Want To Add Your Review
After you receive your order, you may receive a confirmation email with a link to our Customer Satisfaction Survey.
We ask you to rate us for:
- Price / Value
- Quality
- Service
We ask you to use this scale: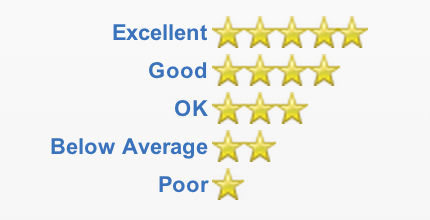 Your rating and your comments are automatically added to our on-site customer review pages. We only use your initials when posting reviews. Ratings and comments are posted as received.

We reserve the right to censor certain language, regardless of the intention - good or bad.
×
This is an easy and affordable solution for adding high quality custom graphics to your laser mailing labels and laser shipping labels.

Printed from your custom artwork, these labels will save you printing time and toner and give your laser mailing and shipping labels the most professional look possible.
Laser Mailing Labels & Shipping Label
We use printing inks and label materials compatible with most laser and inkjet printers.

• Choose from the most popular sizes printed in any combination of up to two standard and PMS ink colors.

• Materials include a wide variety of paper faced self adhesive label stocks, specially designed to be inkjet and laser printer compatible for laser shipping label use.

Custom Printed From Your Artwork.

Your laser mailing labels will be custom printed from the artwork design that you provide. Going "custom" with your laser shipping labels offers many advantages.

• Design reflects your look and feel
• Reduces ink use and costs- Cuts printing time.
Specifications:
Laser

Laser printer labels are unique. Many have special coatings to protect the label stock from heat – and to help ink stick. 

 • Guaranteed Laser Printer Compatible

Inkjet

Inkjet printers need special label coatings to make sure that inks dry quickly.
Artwork on Laser Mailing Information:

These laser mailing labels and laser shipping labels are shipped to you with the design you provide pre-printed on each label. This gives you the flexibility to create a laser shipping label design that meets your special business look and feel. Artwork requirements are provided in the instant quoter and during ordering. Our site features the easiest artwork upload feature we've seen – helping you locate, select and upload your laser mailing labels artwork simply, quickly and securely.

Perfect!

Our material selections clearly indicate laser and inkjet materials to help you choose the right one for your project.

These labels will save you printing time and toner and give your laser mailing and shipping labels the most professional look possible.
Why Maverick?
Get The Best Quality Printing For Laser Mailing Labels .

Right here. We offer digital quality, CMYK printing on the best possible laser-safe inks and label materials available. We don't just "stick you" with one material choice. We know that quality and value begin with choices that make sense for your unique business needs so we offer more that a half dozen label and adhesive choices for laser mailing labels.
Need To Save A Buck or Two?.

We get that. If you want to print in just one or two ink colors, we can do that for you at very competitive prices. You'll get all of the laser shipping label options we offer – all of the sizes, shapes and material choices – at a slightly lower, 2 color printing cost.

 • 50 sheet minimum for CMYK
 • 250 sheet minimum for 2 Color
 • 3 to 4 day turnaround
9 Different Configurations.

From 4 to 32 labels per sheet, we have the laser shipping label format that you need for your business. Each of our formats is compatible with Avery® like templates, so aligning your laser mailing labels is a snap. If you need a custom size, shape or positioning for your laser shipping labels, just let us know. We enjoy meeting your custom needs.
Custom Laser Mailing Labels and Laser Shipping Labels are custom labels printed from your artwork. Laser or inkjet mailing labels with 50 sheet minimum.