Stock Laser And Inkjet Labels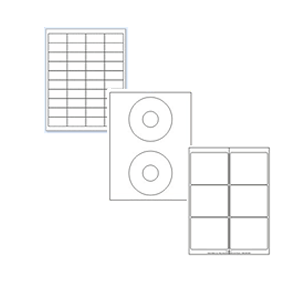 Ordering inkjet and laser labels is easy online!
Want To Add Your Review
After you receive your order, you may receive a confirmation email with a link to our Customer Satisfaction Survey.
We ask you to rate us for:
- Price / Value
- Quality
- Service
We ask you to use this scale: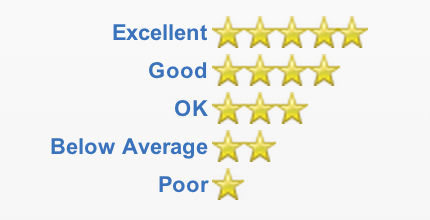 Your rating and your comments are automatically added to our on-site customer review pages. We only use your initials when posting reviews. Ratings and comments are posted as received.

We reserve the right to censor certain language, regardless of the intention - good or bad.
×
You can also choose inkjet and laser labels using the instant quoter below. Choose from dozens of the most popular printable labels sizes and shapes. If you don't see the printer labels you need, just ask CustomerCare Learn More...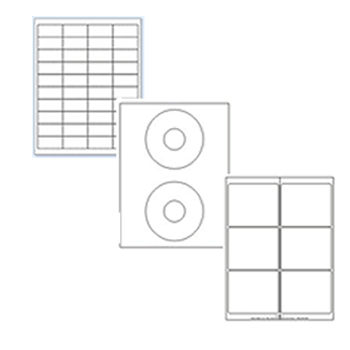 Using Your own Laser or Inkjet printer

Get The Best Quality Printing For Your Laser/Inkjet Labels

If you have questions about Laser/Inkjet labels, please use the online information or contact us for "live" expertise.

The easiest way to start your order, is to choose your printable labels for by the Avery® number below:

AVERY® CROSS-REFERENCE CHARTS
Your Stock Label Source

We are your best source for laser, inkjet, and thermal labels.

Other online stock label companies cannot match our pricing, delivery or product offering!

Don't be fooled! Have a quick look at what makes MaverickLabel.Com your best choice:
 • Quick Delivery From Our Nationwide Distribution Centers
 • Huge Selection Of Same-Day Shipment Products
 • Industry Best Quality
 • Inkjet Labels, Laser Labels, and Thermal Labels
 • Special Labels: Fluorescent Labels, Circle Labels
 • Compare To Avery® And Other Leading Brands

High Quality.

We use the same materials for our printable labels that the big sites and brands do. Same face stock and same adhesives and the same printable labels sizes and shapes. Choose from paper and film based printer labels that look good when printed, stick as you'd expect them to and run cleanly through your printers.

Compatible. Times Two.

We give you compatibility, times two. First. We help you make sure that our printable labels are compatible with your printer. Inkjet labels don't always work with laser printers and laser labels don't always work well with inkjet printers. When pricing your printer labels with us, you check either "Inkjet Compatible" or "Laser Compatible". We do this so that you can be certain that the labels we send to you will work well with the printer type you selected.

Second. We guarantee our printable labels to be compatible with Avery®. We've done our homework on this so you don't have to. Use the handy Avery Cross Reference List to find your printer labels and our system will take care of the rest. We'll ship you the same number of printable labels per sheet in the same size and shape made of the same or better quality materials. Every time.
 
Inkjet and Laser Printable Labels. Popular, competitively priced laser labels and inkjet printer labels - custom labels similar Avery.
High Quality Compatible Printer Labels At A Good Price.Guaranteed.
Get Pricing Now
A Good Price.
We use the same materials for our printable labels that the big sites and brands do. Same face stock and same adhesives and the same printable labels sizes and shapes. Choose from paper and film based printer labels that look good when printed, stick as you'd expect them to and run cleanly through your printers.













Printer Labels Check List


✔ High Quality

✔ Printer Compatible

✔ Avery® Compatible

✔ Great Value



×